Although when talking about the products provided by GN Solids Control, in the oil and gas industry, a lot of people's first image is the line of high quality decanter centrifuges, but in fact, the traditional products of GN Solids Control is solids control equipment like shale shaker, desander, desilter, shear pumps and shaker screens. Recently, GN just finished the fabrication and the delivery of one complete set of mud cleaning system for a trenchless project contractor and the treating capacity is 120cbm.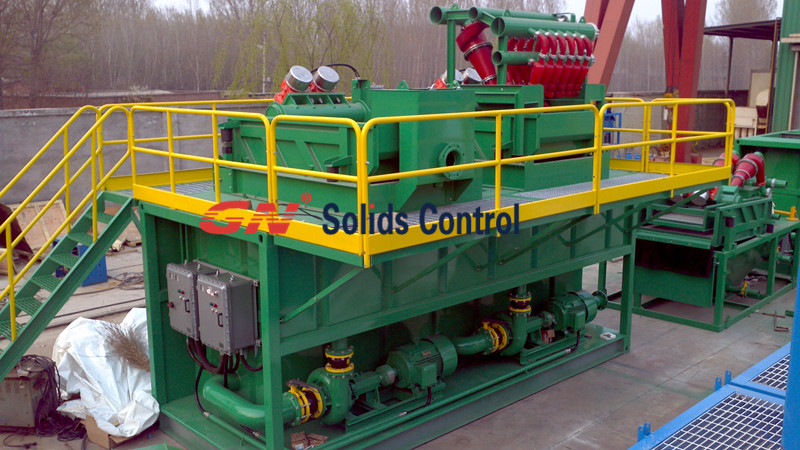 Ever since its establishment 9 years ago, GN has been providing following products and solids control lines for following industries:
Oil and gas drilling solids control system including 4 phase of solids control and 5 phase cleaning equipment, the shale shaker, desander cones, desilter cones, decanter centrifuge and the various feeding pumps for those equipment, like centrifugal pumps, submersible slurry pumps, mono pumps and shearing pumps. And also, the vacuum degasser is within GN's product range.
Mud cleaning system for HDD projects. The main equipment used for HDD mud recycling systems are similar as the oil and gas solids control systems, especially recently, more and more centrifuges are used for HDD projects after the desilter A slight different is that, in case of oil and gas solids control system, the mud falls directly from the well mouth to the shale shaker, while in HDD project, there is a submersible slurry pump used for transporting the mud from the mud pit to the shale shaker. GN shale shakers are designed differently on the buffer box accordingly.
Desander plant or slurry plant for Trenchless projects or TBM projects. The mud system or so called desander plant are similar with the HDD projects' mud recycling systems. And the separation equipment to be used are chosen by clients' respect. In some cases, the TBM Mud recycling system even use a decanter centrifuge or a dewatering system.
Plsadvise more information about your project, GN will give a most suitable solution for you.