We have one mud tank system on sale news in 2012, reading in below chapters:
Start
GN Solids Control has 3 sets complete mud tank system each with 7 mud tanks in stock they are brand new system which was built in 2011.It was built for Iraq project, we have already shipped 2 sets. Due to the situations there, the project will be delayed or canceled. GN now will sell left 3 sets system mud tanks at 30% Discounts.
Location now: Beijing, China Welcome the buyers come to check and discuss
We have already sold one same system to the China Largest Oil Rig manufacturer SJ Petroleum a Sinopec company for PDVSA Project in Venezuela.
Applications for the mud tanks:
1000HP/1500HP oil rig complete mud system with Derrick Solids Control or GN Solids Control Equipments.
Liquid mud plant
HDD/CBM/Oil Drilling Mud Storage Tank or mixing tanks/recycling tanks.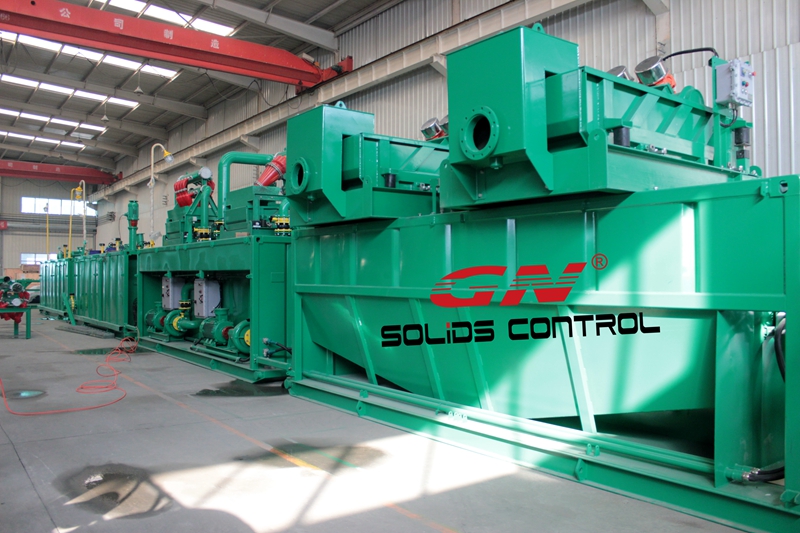 Items including:
1) Mud tanks
7x400BBL Mud Tank for one set 3 sets total capacity=8400BBL Dimension(LxWxH):12000x2900x2300mm Including Shaker Tank, suction tank, storage tanks, mixing tanks completed with agitators, mud guns, centrifugal pumps.
2) Solids Control equipment
3x Linear Motion Shale Shaker, GNZS594 shaker Model equivalent to Swaco Mongoose shaker.
1xVacuum Degasser, GNZCQ360
1xMud Cleaner with 3x10inch desander and 16x4inch desilter, underflow linear motion shaker, GNZS594 mud cleaner, equivalent to Swaco Mongoose shaker mud cleaner
2xDecanter Centrifuge, GNLW363CG decanter centrifuge equivalent to Derrick DE1000 or Swaco 518 centrifuge.
Remarks:
The configuration for above is flexible,you can choose not ot have decanter centrifuge or degasser or less shale shakers etc.
If the buyer want a complete drilling rig,we can sell the complete drilling rig to you with high standard configuration.
END
Above sales news is not available now, but however if some customer need some solids control equipment or mud cleaning system at the moment, we can offer almost same discounted price, the delivery time is also not long, because we have some main equipment in stock for urgent project.