GN Solids Vacuum pump is one new type pump, which used to transfer the high solids content. It is totally driven by high pressure air. It is safety and also can be used in every where with high requirement to fireproof. The most important is this pump can transfer dry solids or high solids content material that the normal pump can not do. All the pump component is driven by air, such as air Pneumatic ram valve.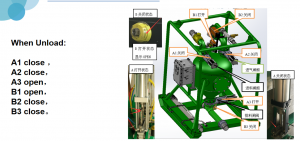 The following photos can show the status of every valve when the pump loading and unloading. The pump work sequence : Air compressor provide air to the venturi, utilize venture structure, which will suck out air from pump tank, and generate vacuum space. Then the pump start to suck material to mud tank. The suck period and discharge period are adjustable. After completing sucking. The air will directly fill into mud tank to push material and discharge out from tank.
According to the above sequence. When pump load. A1 Sucking valve is opening ,B3 discharge valve closing, A2 air valve is closing (This valve used to control the air if it get into mud tank ). When all the mentioned valve at above status, the pump will suck material into tank.
When the tank full with material, all the valve will change status to discharge material. A1 valve to close to stop material get into tank. B3 valve will open to allow material discharge from tank. A2 valve will open and transfer the direction of air flow to feed them into mud tank. And then high pressure air will push sludge out of mud tank.

The loading and unloading time can be setup on control box through a Pneumatic timing. Normal loading time will longer than unloading time. Sometimes, the 5-way -valve inside control box also easy to lead pump issue. So it is necessary to clean this valve regularly.