GN Solids Control has been working on manufacturing varieties of mud systems, some turnkey solutions such as dredging dewatering mud system, HDD mud system, TBM slurry separation system etc are also widely manufactured.
GN Solids Control is especially good at providing slurry separation or solids control. GN has provided over thousands of mud systems for global industries. With the fast development of solids separation, GN Solids Control is getting to known by more and more clients.

GN Solids Control now has one branch company in USA and one office in Russia. Many partners are also working with GN Solids Control and providing after sales service on behalf of GN Solids Control.
Recently, GN Solids America LLC has received many inquiries on dredge dewatering mud systems in North America. As there are many lakes and rivers in North America, it's very popular in North America to use dredge dewatering mud system.
GN Solids Control built GN Solids America LLC in 2013, which is still a pretty young company right now, but many companies knew GN before due to those excellent mud systems that GN provided before.
For the dredging mud system, GN Solids Control has some different solutions based on customers' demands. Generally speaking, there should be one scalping shaker, one finer shaker (with assembled with cyclones most of the time). Double deck shakers are widely used as the system will be more compact. Flocculation systems are also commonly used to adding into the slutty with finer solids before feeding into GN decanter centrifuge.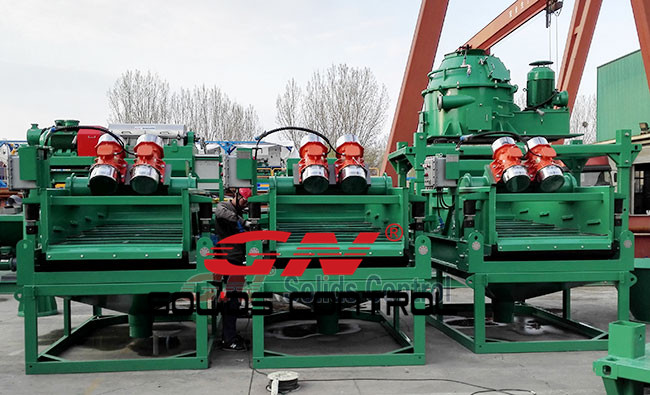 GN Decanter centrifuges are mainly used to separate solids larger than 2-5 microns, with the use of flocculation system, finer solids can be separated out. Some clients will use filter press or pressing machines. If you compare the working efficiency and treating capacity, you will find that using one set of GN VFD decanter centrifuge will be more cost effective.