GN Solids Control has provided thousands of turn-key solutions to global customers. GN various separation treating equipment are widely used in solids and liquid separation, such as oil slurry treating, refinery plant slurry treating, oil tank bottom slurry treating.
This year, GN Solids Control has provided some sets oil slurry treating systems in Uganda, Kuwait, Canada and Qatar etc. GN Solids Control Oil Slurry treating systems are especially designed to treat high density and viscosity oil slurry: oil, water and solids can be separated out.
Solids discharged from GN oil slurry treating system only contains 1~2% oil; recovered oil only has less than 0.5% solids, while the recovered water is also less than 0.5% oil (by using gravity oil & water separator). If customer has higher demand on the recovered water, we also provide micro bubble oil & water separator.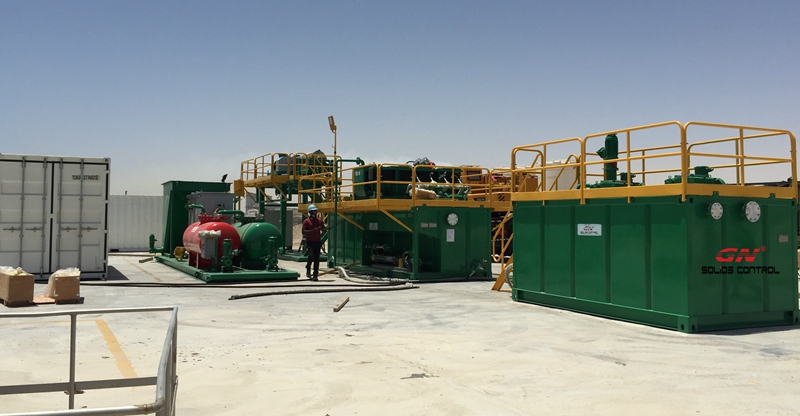 GN Oil Slurry Treating System mainly includes the following treating components:
1. Pre-Mixing Tank
GN pre-mixing tank is used dilute the oil slurry by adding water and chemicals. Heating pipe around the tank is assembled in order to increase the liquidity. GN Solids also provides vacuum pump which can suck high density slurry from a mud pit within 10 m.
2. GN Coarse Shaker
GN coarse shaker is the first phase treating equipment, large solids are removed by choosing different size shaker screens, and sometimes opening mesh screens in stainless steel are also used. Here GN coarse shaker is covered with metal plate in order to keep the slurry from splashing. Flushing outlets also fixed on the shaker so screens don't need to be disassembled for cleaning.
3. GN Decanter Centrifuge
Based on the treating volume, GN Solids provides 14inch centrifuge, 18inch centrifuge or 22inch centrifuge to treat different drilling slurry. 2 sets centrifuges may be used so solids can be removed twice.
4. GN 3 phase Separator
5. GN Flocculation Unit