GN Solids America LLC is a branch company of GN Solids Control Co. Ltd. From the beginning of establishment, GN Solids America has devoted to providing the most cost-effective solids control systems and drilling waste management systems.
GN Solids America LLS is located in Houston, TX. Although it's still a new company in America, with the great support from its parent company, GN Solids America has witnessed the fast development in the American market.
Now many drilling companies are getting to know GN, and GN has won great reputation for the excellent performance, satisfied using life and guaranteed after sales service. GN has sold many sets of mud systems to the USA market since the establishment. The large inventory in GN Houston warehouse also helps to win customers. And all the spare parts are storage in Houston for fast delivery. GN experienced engineers also can be send out for trouble shooting and commissioning.
GN Solids America just delivered one sets of desander and desilter to one client in Arizona. This client will use this desander and desilter to separating the solids in mine area.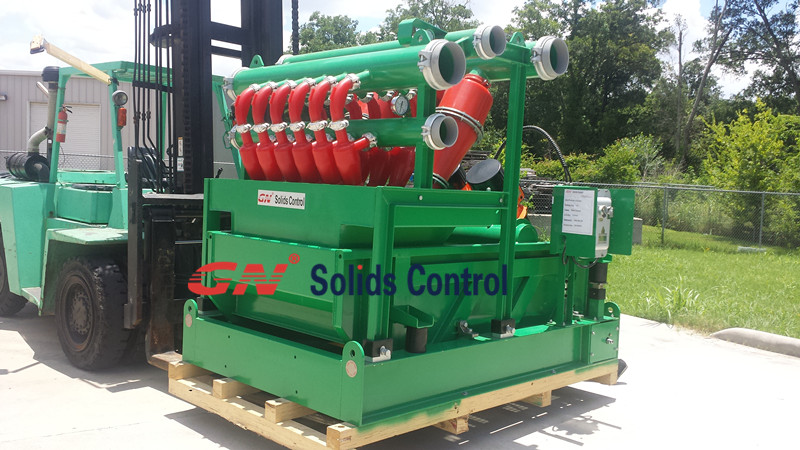 GN Mud Cleaner: type is GNZJ594E-2S12N
1. GN Shaker
This mud cleaner has one bottom shale shaker with 4 pieces of shaker screens. The screens are totally compatible with Mongoose screens. Now GN has two types of shaker screens can be chose: one is steel frame, the other is composite material. Generally speaking, the composite material screens are much more cost-effective.
2. GN Desander
There are two sets of 10 inch cyclones on the shaker. These cyclones are used to separating the solids that larger than 40 microns.
3. GN Desilter
It consists of 12 sets 4 inch cyclones on the shaker too. Solids that larger than 25 microns can be separated out by these 4 inch cyclones.
When using this GN mud cleaner, two centrifugal pumps will be needed to pump the fluids to desander and desilter.