World top manufacturer GN Solids Control offers complete solution associated with water base mud as well as water base drilling cuttings, as well as oil base mud and oil base cuttings. Water base mud is a very normal type drilling mud for oil and gas drilling, particularly in China. Here we have a short introduction of the treatment system to get water base mud in addition to water base cuttings.
GN Solids Control system may recovery drilling mud while more as better, and lessen amount of solids waste as little as better. After the GN system treatment, the fluids can easily clean enough for recycle for discharge. The solids phase is harmless along with dry; it can be used to help make bricks or other purposes.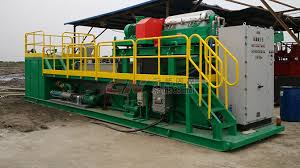 GN no pit drilling waste management system intended for water base mud as well as water base cuttings tend to be welcomed in China and outdoors of China. Like CNPC, CNOOC and SINOPEC are generally equipped with GN brand drilling waste management.
The equipment with regard to water base mud in addition to water base cuttings usually are as following:
1) Excessive G drying shaker. It might be called High G dryer, or drilling cuttings dryer. The Qty is only two ea for 1 system. Model GNZS594HGE-LD. The shaker model is the 5 creation high G dryer shaker from GN Solids Control. GN own over ten ea patent design for the main line equipment.
2) High speed decanter centrifuge GNLW363C-VFD. It is the most advanced design centrifuge for waste management supply by china manufacturer. It replaced many United. S brand at several jobsite with its mature design and style and reliable performance.
3) Chemical dosing system along with dewatering centrifuge: If the clear fluids from the high speed centrifuge will not be reused for drilling, it will be transferred to chemical dosage system (or called dewatering unit) for further treatment. An excellent step the fluids is definitely clean and can be discharged.
4) Drill cuttings solidification product. It is used to treat all of the solids phase discharged by high G dryer shaker, from high speed decanter centrifuge and from the dewatering centrifuge. After the treatment of solidification system, the solids can be used to help make bricks for road structure.