We could see the mud gas separating installed in many drilling rig jobsite. Regarding to complicated geologic environment of drilling site, mud gas separator is used for separating the hazardous gas from the drilling fluids.  Mud gas separator not only is used for oil & gas drilling site, but also it is applied for the deep mining drilling jobsite.
How is GN mud gas separator working?
The drilling fluids/mud from down hole goes into mud gas separator (poor boy degasser).Due to the gravity force, the mud drops down on the 1000mm diameter vessel of poor boy degasser. Mud collides on buffer plate of pipe so the dangerous gas will be relieved from the drilling fluids. Obviously, gas flows to the top of 8 inch vent line which is connected with the flare igniter to burn out. Normally, flare ignition device is about 160 ft away from the poor boy degasser to assure the safe distance burning. Meanwhile, the mud would go down and accumulated at the bottom of mud gas separator, and subsequently flow to the into the solids control system including shale shaker, desander, desilter and decanter centrifuge etc
Why we choose GN mud gas separator?
1.GN is recognized world-wide for accuracy, durability, from easy to complex and standard to cu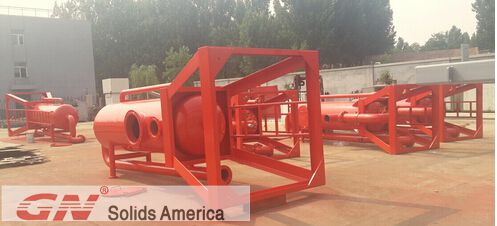 stomize in order to design and manufacture the most reliable mud gas separator .
2. GN design, application, and manufacturing engineers have designed custom products to fit every single application. Such as, we could horizontally fold the mud gas separator on the skid for easy transportation.
GN provide the economic, environment and safe closed loop system including mud gas separator, shale shaker, desander, desilter, mud conditioner, vacuum degasser and decanter centrifuge
etc. We not only just provide you a single unit or system, but also focused on the best solution for your mud, fast response and convenient spare part delivery. Call us today to save your time and money.