GN solids control new designed mud recycling system with decanter centrifuge has been used for HDD mud recovery. Normally the client did not use decanter centrifuge, but for some special projects, the solids size are very fine, the 4 inch desilter cones are not enough, they have to use the decanter centrifuge to separate the fine solids. CPP, short for China Petroleum Pipeline Bureau, is the China largest Horizontal Directional Drilling Contractor, they have bought over 30 sets of muf recycling system from GN solids control in the past 5 years. Some of their mud recycling systems are tradional design with only shale shaker, desander, desilter 3 phase cleaning , some are with decanter centrifuge because of high percentage of fine solids in the drilling fluids.
This time they bought 4 sets of 1000gpm Mud Recycling System with GNLW452 middle speed decanter centrifuge, which is one of the most reliable working, high treating capacity with separation point 5 microns.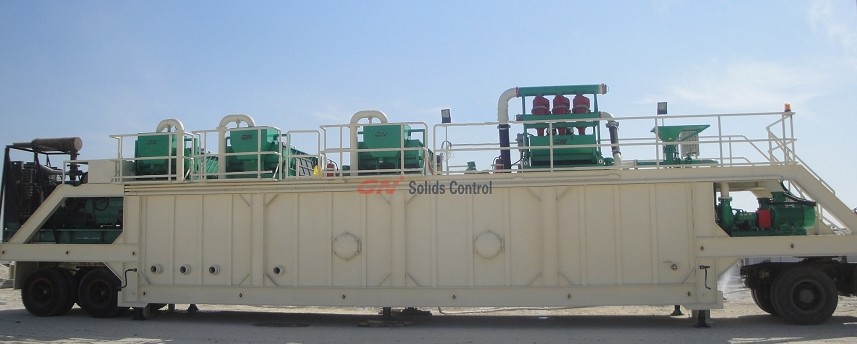 The main features of the 4 sets of mud recycling systems are the equipments are installed in a 20ft standard container frame, and the mud tank size is replaceable with standard 20ft container, during working, they are installed with screws. And during transportation from one place to another, they will be shipped by the vehicle fit for 20ft container size. This is for fast move, fast disassembly, fast installation purpose.
Not only for the mud recycling system, we can also adopt such design into drilling waste management system design for the same reason. In some cold temperature area, you can cover some tarpaulin outside the 20ft steel frame to keep them warm in winter, so you can save the money of heating lines to keep them warm and fluxible.
If you need a similar design for your HDD,CBM, underground construction, mining project, pls contact GN sales.
Related Arciels: