We are building one oil sludge washing and separation system for Uzbekistan customer. This system will be used to process the sludge with large oil and less water. This kind material is the most difficult to treat in waste management industry. Because most cases, the oil and solids ware hard to separate away. To solve this issue, GN equipped one washing modular in the system to flushing the stuck sludge first.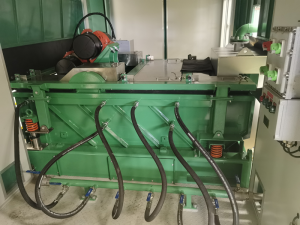 The sludge flushing will reduce the solids content of material and mix with large water ,improve the flowability of material. Meanwhile, this modular will also heat the slurry. As we all know the oil will easy to separate away with solids after raising the material. We will also add demulsifier to this slurry, which will help to transfer the Emulsified oil separate away with water. After that , we will pump these slurry into shale shaker to separate out most big size particle; And then pump into 2 phase Decanter cent to reduce solids content in discharged liquid from shaker, finally we these oil and water mixture will feed into 3 phase disc centrifuge to complete the finally oil water separation ,and also remove less solids.
In this system, we recommend our GNZS752 shale shaker, and GNLW553 Decanter centrifuge and also GNSX 520 disc centrifuge. All these equipment was manufactured by our own. The shale shaker and decanter centrifuge have been used in more than 2000 projects in the global market. Especially in the oil gas industry, we provide lots shaker and decanter centrifuge for the drilling mud treatment . And also the oil sludge treatment system for drill cutting process.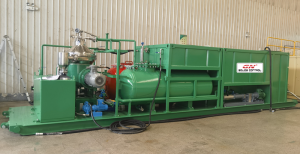 This system is high efficiency with treatment about 15cube meter per hour, and people can recycle the oil for reuse, and lower the pollution of oil sludge. GN also can provide system with capacity of 2m3/hour and 5 m3/hour. If your project have demanded on this system, please feel fee to contact us.