GN Solids Control is a China leading manufacturer on solids control and drilling cuttings treat equipment manufacturer. Now GN solids control equipment including shale shaker, desander, desilter, cuttings dryer, decanter centrifuge and some other equipments such as shaker screens, centrifugal pumps, hydro cyclones etc.
GN Solids Control can manufacture over 5000 pcs shaker screen every year. These shaker screens are widely used to replace many world famous shaker screens, such as Derrick, Mongoose, King Cobra etc. GN Solids Control also manufactures its own shaker screens for the shale shaker they have.
Now GN has one shaker which model is GNZS594E, the treating capacity is 616 GPM (140m³/h) by using 4 pieces shaker screens. GN has several patents on our shakers, such as the rubber sealing method on the shaker bottom frame.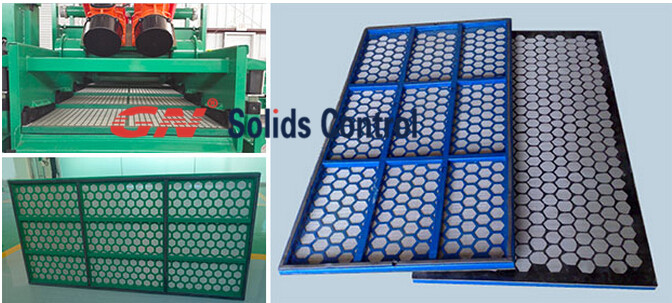 GN 594 shaker can also use replacement Mongoose shaker screens as the shaker has the same dimension to assemble these screens. Now for the replacement Mongoose shaker screens, GN manufactures steel frame shaker screen and composite material shaker screen. Due the obvious cost-effective characters, now the steel frame shaker screens are widely used by GN clients from over 60 countries. But from the long run, GN also recommends to used the composite shaker screen, as they can be used for a long time, and the separating performance is much better than the steel frame type although its price is a little bit higher.
Now GN Houston warehouse has many shaker screens in stock. Some shakers and mud cleaners can be also delivered very quickly.
GN Solids America LLC is increasing the storage in Houston warehouse step by step. Now we are make the regular storage plan for many clients who keep purchasing from us in Houston, in order to provide a better lead time, GN shaker screens are manufactured and delivered from Chinese factory to Houston warehouse at first, so whey clients have immediate need on these shaker screens, we can call for a truck to send them very fast.