Last week we shipped out 3 units GN vacuum pump and one screw press dewatering machine to our old client from environment industry. This customer almost purchase all dewatering equipment and pump from GN, The quality of our equipment satisfied client, they are a big fan to GN equipment.
GN Separation and transfer is one brand of ours. GN separation main focus on developing solids-liquid separate and also material transfer. Such our shale shaker, decanter centrifuge, disc centrifuge and screw press dewatering machine. according to the material situation, we can recommend suitable mode equipment to get the best treating result.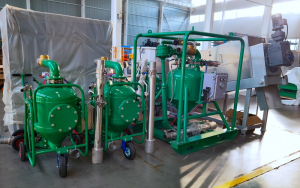 GN transfer equipment include centrifuge pump, centrifuge pump, screw conveyor and also GN solids vacuum pump. All these equipment is widely sued in the world. Such as centrifuge pump, it is 100% interchangeable with MISSION Magaum, it is one kind high efficiency and stable machine. GN Solids vacuum pump is our most feature product, it is different with normal pump, which can transfer dry solids size smaller than 75mm, and also have good performance to transfer high solids content material and high viscosity material. The transfer distance can reach 1000 meters. GN is the only China vendor that can manufacture this kind pump. In some material transfer such as oil sludge , sand ,drill cutting, GN vacuum pump is best optional.

Screw press dewatering machine normal to dewater the material that solids content less than 5%, which is especially good at process the organic material and soft material. The discharged solids is very dry, comparing with other kind dewatering machine, screw press is low power consumption and continuous work, easily operate and maintain. In some tiny solids material, we also recommend mix with flocculant to combine small particle into bigger one to help the machine get better dewatering effect.
Not only equipment, GN also can provide whole set separate solution, we are a manufacture with full experience technical department. If you have demanded, welcome to contact us.