GN Solids Control just developed one set of automatic Tank Cleaning System which can be used to treating the oil tank bottom sludge continuously. Now there have been several sets are used in the worksites.
GN Tank Cleaning System treating capacity is 30m3/h, it mainly includes the following two parts:
1. GN Surge Tank
GN Surge Tank stocks the water up to 7.5 m3/h. Water is pumped to the tank by one centrifugal pump, it's used to clean the tank bottom under high pressure as those sludge need to be washed and diluted before feeding into the desilter cyclones.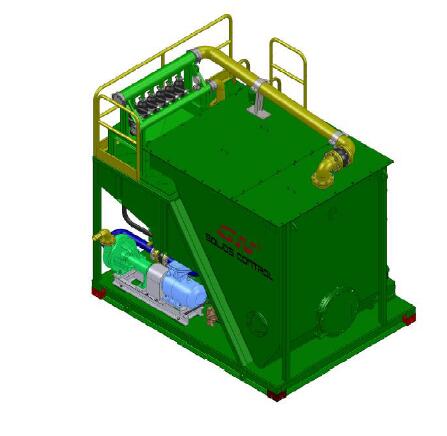 GN Cuttings Pump is used to feed into the desilter cyclones. There are 6 sets desilter cyclones assembled on the top of the tank. As we know, the desilter cyclones are take advantage of the gravity to separate out large solids in the sludge.
2. GN Slant Treating Equipment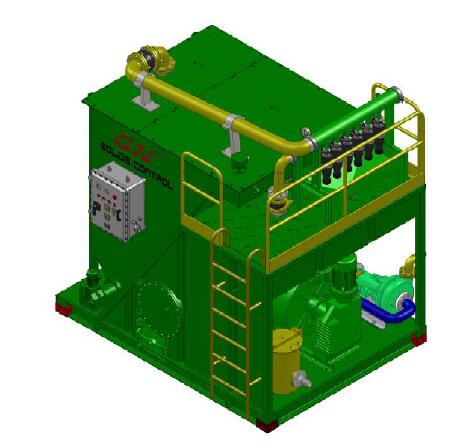 The after treated sludge is feed into the slant clarifier which is assembled with many pieces of stainless steel lamella plate. GN Slant Treating Equipment is especially designed to remove solids from waste slurry. Those lamella plates have the same angle of 55 degree with the horizontal line.
Water is discharged from the outlet on the upper part. While one set of screw conveyor is fixed on the triangle tank bottom, it's used to transfer those thick particles.
GN Tank Treating Systems are easy maintenance and operating. As the main equipment in this system, GN Slant Treating is designed into a pretty compact structure which can be moved among different worksites as well.
GN Solids Control also provide dosing unit for better separation together with GN Tank System. Chemicals or flocculent can be added automatically before sending to GN treating equipment. All those flocculent systems can be put in one standard container for fast moving.