GN Solids America LLC is first certified Chinese solids control manufacture by API. Since 2007, we have been exported our machinery over sixty more countries and numbers keep going up.  As now, we serve domestic Chinese markets and muti-region drilling project by not only solids control machinery, but also the whole mud system who promote zero-discharge theory.  The mud system who promotes zero discharge theory is the drilling mud is filtered and re-use in closed-loop cycle. For the drilling mud moving smooth in closed-loop circle, the centrifugal pump is the critical machinery serves in the mud system.  GN Solids America is manufacture who makes full mud system without out-sourcing to other manufactures.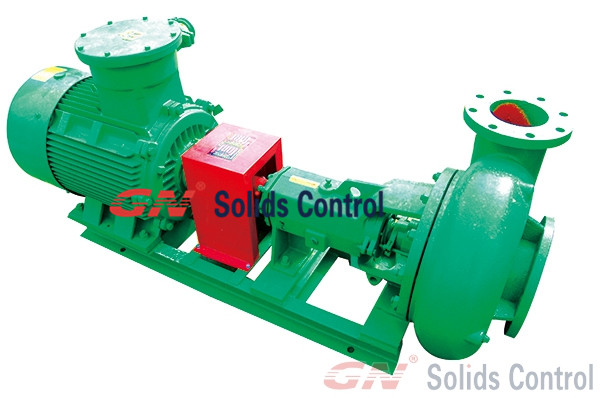 The basic parts of the centrifugal pump are rotate impeller.  The speed of impeller is depends on the use of the motor.  The impeller is in the snail-like shell shape casting with curved blade that tied with pump impeller axis and pump shaft driven to perform high speed rotation.   The pump casing central suction inlet and suction piping connections, suction pipe bottom with one-way bottom valve. Outlet beside pump shell connects wih outlet piping equipped with regulating valve. The impeller of such a pump is magnetically coupled with the motor, across a separation wall which is resistant to the fluid pumped. The motor drives a rotor carrying one or several pairs of permanent magnets, and these drag around a second pair(s) of permanent magnets attached to the pump impeller. For the centrifugal pumps that function properly, it needs to be filled with mud prior turn on the pump for working at its own function.  If the pump casing becomes filled with vapors or gases, the pump impeller becomes gas-bound and incapable of pumping.
As mention earlier, GN Solids America LLC performs its own manufacturing of centrifugal pump to provide customers around the world most honest and cost-effective price.