GN shale shaker has been developed to increase solids control performance in drilling fluids recycle, HDD industry, dredge slurry industry and fine screening systems. Two dynamic motors in a high configuration create linear motion at all points on the shaker deck maximizing the solids recovery, liquid throughput and reducing the fluid retention on cuttings.
1. Drilling Fluids Recycle
GN Shale shakers are widely applied for recovering the drilling cutting in the oil & gas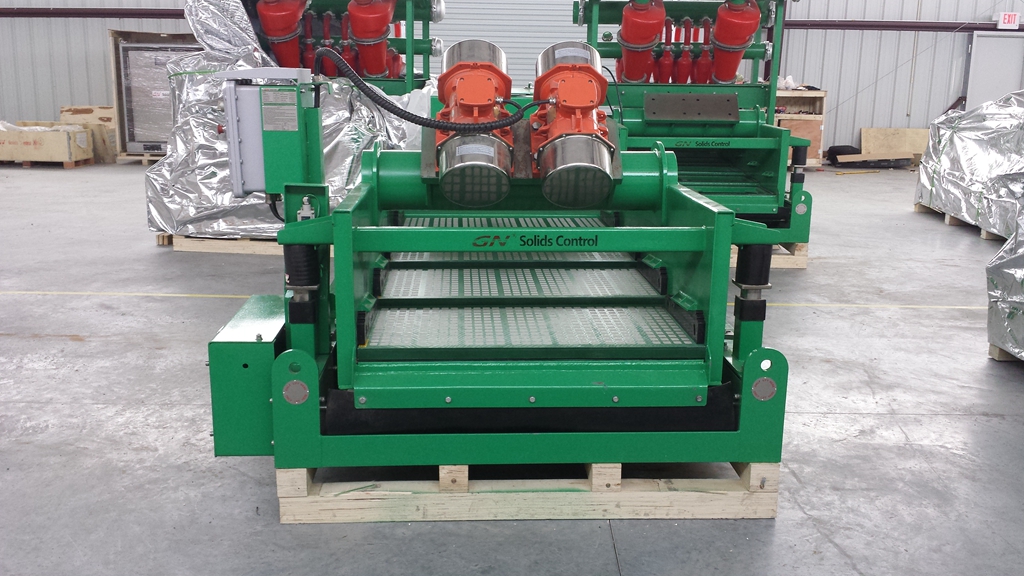 drilling, water well drilling and other drilling industry. Large mesh shaker screens are capable of removing the large solids in the drilling fluids so contractor could reuse the drilling fluids and control budget. 585×1165mm pre-tensioned screen panel with hammer locking Wedge. Deck angle adjustment is available from -1 to 5.G- Force is adjustable to 7.5 G. 2.73 screen area with low frequently changing screen are welcomed by our many customers.
2 .HDD industry
Regarding to customer's requirement, HDD project may require a small capacity shaker with multiple function. Therefore, we design GN double deck shale shaker to meet with customer's expectations. Two types of shaker screens on the deck maximum remove different size of solids and prevent solids stuck on the screen panel.
3. Dredge Slurry Industry
In the dredge slurry separation, GN shaker plays an important role in removing the large solids such as debris, aggressive solid and abrasive solids. Subsequently, the fluid will be pumped to the desander or desitler units to get further process. Typically, small mesh screens are utilized in the dredge slurry system. High capacity and high G force GN shakers are widely used in dredge slurry system.
Whether it be used in Oil & Gas drilling, Water Well, HDD and Dredging, GN shaker is capable of separating unwanted solids from fluids, as well as reclaiming valuable solids that in the past have been costly and wasteful to dispose of.