GN advanced decanter centrifuge is capable of processing un-weighted and weighted, water-based and oil-based drilling mud (Drilling fluids). GNLW553 uses high G-forces to separate fine solids from liquid
GN centrifuge is fed from the solids end of the conveyor. Drilling fluids is pumped into the feed chamber of the GNLW553 through a feed tube and exits through one big nozzle into the bowl.
GNLW553 is equipped with VFD ( Variable Frequency Drive) control, which provides a controlled applications of motor drive power to the centrifuge components( screw propeller, bowl and feed pump). With a effective capacity up to 400 gal/min, the GNLW 553 centrifuge is able to quickly process high volumes of drilling fluids and separation efficiencies to be maintained. Therefore, GN centrifuge produce fine cut points at higher flow rates and critical conditions solids control.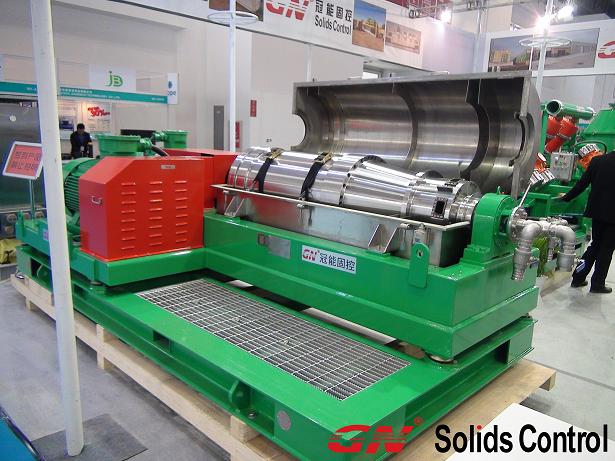 Decanter centrifuge Features and Benefits
1. Features-400 gal/min maximum processing capacity( drilling fluids)
Benefit-High processing capacity for utilization in high-flow drilling application and condition
2. Features- Variable Frequency Dive (VFD) control
Benefit- Allow easy adjustment of bowl, screw and feed pump speeds for varying process conditions and provides torque overload protection.
3. Features- Drilling fluid is fed from discharging solids end.
Benefit- Provide a short feed tube with less vibration influence. It contributes the fast feeding solution
4. Features- Duplex stainless steel bowl and case
Benefit- Provides corrosion resistance for long life, smooth operation and low maintenance, high strength and corrosion resistance.
5 Features- Tungsten carbide tiles protection and SKF bearings
Benefit-Quality material offers a solid foundation for smooth operation and long bearing life
6. Features- Split case cover and protection material
Benefit-  facilitates easy access for inspection and maintenance
From flow line to disposal, GN has the solution to your separation and waste management. Decanter centrifuge is a product group of GN Solids America.GN solids control leading provider of solids control units including: shaker, mud conditioner, vacuum degasser, mud gas separator and other solids control units.