As a result of multifunctional requirement, economic and regulatory pressure as well as the small footprint, premium shale shaker must be capable of reducing waste volumes and maximize efficiency. Uniquely GNZS705 dual flat-deck shaker has taken the solids control program to entirely new level of efficiency. GNZS 705 is providing primary solids removal in CBM (Coal bed methane), HDD(Horizontal Directional Drilling) and TBM drilling etc. The robust construction and optimal solids control satisfactory manner of GNZS 705 with pretensioned screens reduces units' maintenance time, the amount of shale shaker required on location and the need for redundant solids control equipment.
Features and Benefits of GNZS705
1. There are total five panel screens in this dual functional shale shaker. Top deck shale shaker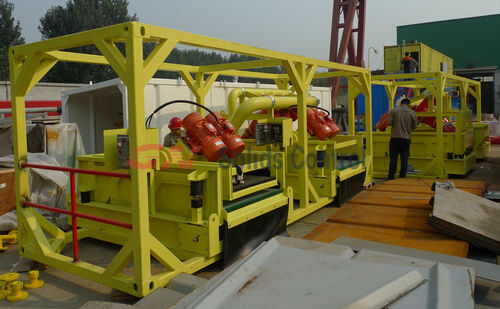 is 2 screen panels with small API number screen (10 API shaker screen and 4 API number according to jobsite condition) and bottom deck is 3 screen panel (with larger API number which separates fined solids). The unique design delivery high progress capacity
2. Progressive Liner motion enhances overall solids control efficiency and quickly separate solids of fluids pool
3. International brand Super G vibration motor with CE, ISO and API compliant. And maximum generate drilling cutting and other solids
4. Adjustable deck angel is available from -1°to +5°according to the drilling conditions. Heat treatment of shaker deck and stainless shaker deck is quality assurance
5.Generall, drilling cutting volumes and drilling conditions changes constantly during the course of bottom hole. There, an flexible solids unit plays a vital role in the fluids control. That's what separates the GNZS 705 shale shaker different from traditional single-deck shale shakers.
6. GN double shaker with desander, desilter ,mud cleaners and decanter centrifuge make up the effective solids control system. GN double deck shaker with hydrocyclones is a multifunctional solids control units for water well, HDD, CBM and TBM drilling.
For you project and dual-deck shaker information, please contact with GN representative.