Separation equipment is one main business of GN, which include screw press dewatering machine , Decanter centrifuge ,disc centrifuge, shale shaker and also mud cleaner. As usually ,shale shaker and mud cleaner are most applicant on the solids control industry, such as oil well drilling, HDD, TBM. But decanter centrifuge not only for these project, but also for environment and waste water treatment. Disc centrifuge is for clarifying liquid or liquid-liquid separation. We received lots inquires from farm plant and some company main process manure . All these client request we give out solution to remove out the solids from manure fermentation as much as possible.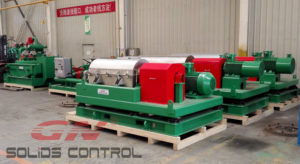 This manure fermentation liquid include about 10% solids , and particle between 3 to 70 um. As usually , it is not allowed to mix polymer such as flocculant. Because sometimes, they will use these liquid for irrigation. That makes project hard to remove out solid. For this situation , we recommend Decanter centrifuge as the first stage separation equipment . The separation G force of Decanter centrifuge can reach 3000G, it can separate out 90% particle bigger than 5um. Reduce the solids content between 2%-4%. The discharged solids moisture is about 50%, which seems very dry by naked eyes. The discharged liquid will feed into disc centrifuge for further treatment. The solids content has been reduce below 4%, which is very appropriate for disc to separate. The separation of disc centrifuge can reach 7000-8000G. even the tiny solids can be separated. However, disc centrifuge is good to clarifying liquid. The discharged solids is very wet, client need to dry it by other equipment.
GN separation equipment has been used in many environment industry. Our equipment get the good feedback from customer. especially in America market. We designed our own separation system for hydrovac slurry treatment. and sold it for more than 15 sets. If you have the similar project, welcome to contact us, we will be glad to share our experience.