Drilling fluid is the circulating fluid used in the drilling process. It is a mixture of liquid, solid and chemical medicines . For a long time in the past, drilling fluid was commonly called "mud" at home and abroad, which is not accurate. Solids particles in drilling fluid can be divided into harmful solid phase and useful solid phase. Drill cuttings are the most harmful solid phase in drilling fluid, which will affect the physical properties of drilling fluid in the whole process of drilling, and increase the density, viscosity, dynamic shear force, water loss, mud cake, abrasiveness, viscosity and flow resistance of drilling fluid. In the process of well drilling, drill cuttings will also damage the oil and gas reservoir, reduce the penetration rate, increase the torque of rotary table, and cause the rig to be stuck during tripping, resulting in lost circulation, blowout and other downhole complex conditions. At the same time, the cuttings in the cobalt well fluid will cause serious wear to the circulation system.
So the drilling mud is very import to keep the drilling success, and improve work efficiency. However drilling mud is very expensive material. Recycle them and use again as much as possible are very necessary. GN Solids Control are specially design and manufacture different kinds solids control equipment and system. we have more than 15 years experience. Shale shaker, mud cleaner,decanter centrifuge ,and also shaker screen. Every year, we exported lots set system to abroad and also China inland. Till not, our equipment has served more than 20000 project and customer from 76 countries.GN get the reputation from the market, and we also built long terms relationship with many client.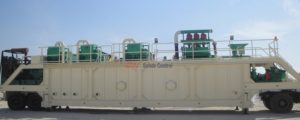 Manufactured in china with North America standard, and serve all global customer. We had built our own high efficient system to provide quick and high quality service to customer to help them creating value and save money. If your project have demand on solids control equipment, welcome to contact us.