As we all know drilling mud is one of the most important middle material in the drilling program. As usually ,The solid control system refers to the degasser, shale shaker, desander, desilter, micro desilter, desanding and cleaning device, desilting cleaner, centrifuge and mud tank. That is a whole set of system according to the requirements of solid control. The selection of solid control system is mainly based on the following principles
1 ,Type and size of particles to be removed or suppressed
2,Cost of drilling fluid
3, Liquid solid cost ratio of drilling fluid
4. The quality of drilling fluid that needs to be maintained during drilling is poor, and environmental factors are taught
5, freight and other miscellaneous expenses;
6 ,density of drilling fluid used;
7, mechanical ROP, solid removal rate and circulation rate.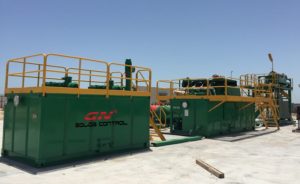 Select the suitable solids control equipment will help to reduce the drilling cost and improve working efficiency.
There are seven basic systems for solid phase control. The first system is the most basic, which is suitable for non weighted drilling fluid. The system largely rely on desander and desilter. During fast drilling, the desilter should be started continuously. It should be noted that if we can concentrate the drill and make it more concentrated than the diluent, we can use "low-density drilling fluid" for the desilter. The second system added Decanter centrifuge based on the first solids control system. Decanter centrifuge are used to remove out the tiny particle. It can clean mud and also reduce mud gravity. The 2 system are used in most drilling project. However , in some special project, the system will require several units hydrocyclone and Decanter centrifuge to teat expensive drilling mud to recycle the mud as much as possible.
However, shale shaker, degasser, desander, desilter, decanter centrifuge are the basic solids control equipment. GN can provide all these equipment and customized produce the system according to client requirement. If you have demanded, welcome to contact us.