Drilling fluid containing ultrafine solids that size of 2 micron to 5 micron which has been separated by decanter centrifuge is sent to the storage tank to storage. For achieve the maintenance of the viscosity of the weighted drilling fluid is achieved by removing solids and colloidal particles that can cause high viscosity in the drilling fluid.  The barites discharged from the sediment export are sent back to drilling fluid circulating system for reuse.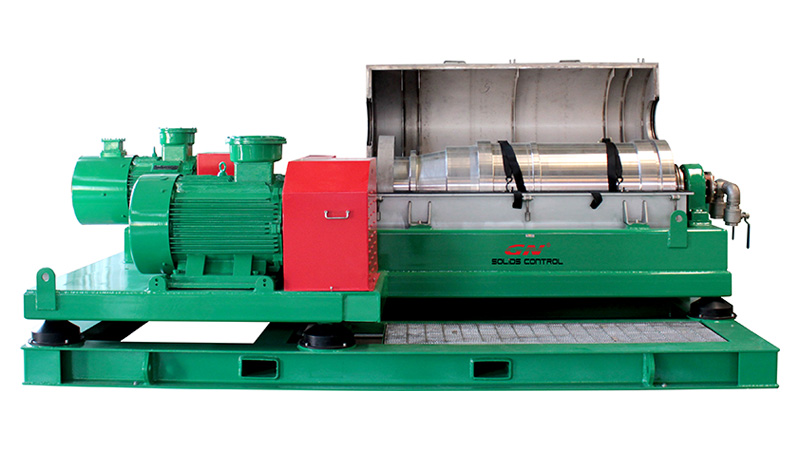 The drilling fluid and barites can not be completely separated by using centrifuge during this process because that there are also large size of low density cuttings in the recovery of barites; Similarly,  the drilling fluid in the overflow contains both low density of fine solids and also very small and un-useful  barites particles.
There are use bentonites and finishing agent and also un-useful barites particles in the drilling fluid which is discharged and stored without being used. Therefore, we should add bentonites and treating agent to drilling fluid when adding the fresh liquid to the drilling fluid.
GNLW series decanter centrifuge line offer bowl size of 9 inches, 14 inches, 18 inches and 22 inches. It can meet the demand of different treating capacity.  Besides the bowl size, it also offers the various speed adjustment and fixed speed to meet the demand of mud treating for the drilling mud. The series number is GNLW363VFD, 453VFD, 553 VFD, 223, 363 and 452.  GN Solids America LLC has a large warehouse get to 30, 000 sq. feet. GN Solids America helps to keep many decanter centrifuges are available in Houston. GN Solids America is providing rental services for these centrifuges and the some other solids control and going waste management systems. We have full after-sale service tech on stand-by status to service our machinery in timely matter.