GN Drilling Waste Management Systems Are Delivered From Houston
GN Solids Control manufactures drilling waste management systems to treat the drill cuttings including oil based cuttings and synthesis base cuttings. GN Solids Control has two branches: one is GN Solids America LLC which is located in Houston, TX and the other is GN Solids Russia which is located in Moscow, Russia.
Last week, GN Solids America LLC just delivered one whole set of drilling waste management systems to Africa. All those drill cuttings management systems are delivered from GN Solids America Houston warehouse.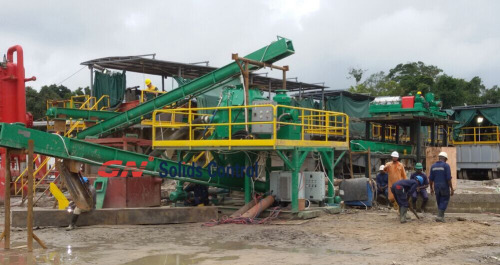 As a Houston based company, GN Solids America LLC is the first Chinese solids control manufacturer who built USA branch. GN Solids Control and GN Solids America is getting to known by more and more domestic energy companies with the help to GN Solids America colleagues. GN Solids Control also provides spare less effort to supporting GN Solids.
The drilling waste management systems that will be used in Africa are fully discussed before the pick up from GN Houston warehouse. This client will use this system to treat the oil cuttings that collected from the Shell worksite.
The main equipments are as the following:
1. GN Variable Speed Decanter Centrifuge
GN VFD centrifuge is widely used in oil cuttings separation. By using GN VFD control cabinet, rotating speed and differential speed can be adjusted easily. GN VFD control cabinet also conforms to the IEC or ATEX explosion proof standard.
2. GN Fix Speed Cuttings Dryer
GN cuttings dryer is especially designed for OBM or SBM separation. All the solids that larger than 250 microns can be separated by GN cuttings dryers. For clients have the demands for treating WBM, GN also provides Hi-G shaker to treat those cuttings before sending to GN decanter centrifuge.
3. GN Screw Pump
GN screw pump is also positive displacement pump, drill cuttings can be feed to decanter centrifuge without disturbing the cuttings too much. Also there is one screw pump used for cleaning the screen basket in case it will block.