The High G shale shaker is a linear vibrating screen, which is used to minimize the absorbed liquid phase of the drilling cuttings discharged from the main vibrating screen and the hydrocyclone, and return the treated liquid phase to the circulation system. The drying screen shall be used in closed-circuit circulation system or in places where it is required to reduce the liquid phase content of drilling wastes. There are chemical and mechanical methods to reduce the liquid phase discharge. The chemical method is to use the dehydration reaction system and the mechanical method is to use the linear vibrating screen. The two methods can be used alone or in combination. The dry vibrating screen is used to dehydrate the drill cuttings separated from other solid-phase separation equipment. These drill cuttings are usually discharged from the main vibrating screen or the hydrocyclone in the drilling fluid circulation system. The dryer recovers and processes the liquid phase in these drill cuttings. Since flocculation, coalescence and other action units are usually used in the dehydration system, the recovered liquid phase contains colloidal particles, Therefore, the influence of these colloidal particles on the performance of cobalt well fluid must be considered.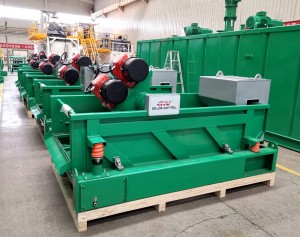 GN high G shale shaker was designed for drilling waste treatment, which used 4panels shaker screen, the G force can reach 8.5 Gravity. GN high G shale shaker has the good ability to recycling the mud from the drill cutting. It convenient for client to reduce the cost of drill cutting treatment, and the recycled mud also down the cost for drilling mud. This High G shaker used Italy brand vibrator, and the whole machine body is reinforce design, that guarantee the long lifetime.
Our high G shale shaker had sold to more than 20 countries, and get the good feedback from customer. The G force is adjustable, which means client can down the G force and used it as normal shaker. If your project have demanded on this equipment, welcome to contact us.