In the drilling equipment of oil gas industry. Solids control equipment is the most important accessory equipment for drilling mud treatment. Drilling mud can balance the pressure between the outside and inside of petroleum well, it is important to prevent blowout or well collapse, and also improve the drilling efficiency ,cooling the rig machine and protect it. Drilling mud is expensive and need to recycle to use. The main solids control equipment such as shale shaker can remove out the big size particle. But along with the mud be recycled more time, it will accumulate lots tiny particle. Shale shaker and mud cleaner are no way to remove out them. This time, we need to run Decanter centrifuge to separate out these tiny solids.
For this client, they required we provide screw conveyor to catch up the discharged solids from Decanter centrifuge. Transfer them to truck and delivery away. GNLW-363 Decanter centrifuge are the main model for drilling mud treatment. Whatever oil base drilling mud or oil base drilling mud, 363 model are no problem to treat them. We sold the GNLW-363 centrifuge more than 200 units every year. And this model served more than 2000 drilling project since company found time. 363 is 14 inch decanter centrifuge, the centrifuge bowl is 14 inch. It is just one model of GN centrifuge series. We can provide 9 inch, 22 inch, 30 inch Decanter for client different treating capacity requirement. The cone angle of centrifuge bowl are also vary. For different material or separation purpose, we will recommend the suitable cone angle to reach the separation purpose.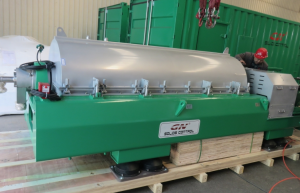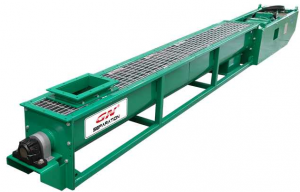 The centrifuge application of oil gas industry is just one. GN Decanter are also good performance on the waste water treatment, environment protection, metal recycling , or biological industry. If you have demand on this ,welcome to contact us for more information.